Free shipping on boxed product purchases.
Templog GO is produced to monitor the temperature values of temperature sensitive products
during shipment and to monitor them online immediately in the shipping location.
In order to reach the temperature reports, you can get information 7/24 about shipment
from your desired location without waiting for the shipment to finish.

It is enough to enter the device number in the relevant field by going to www.temploggo.com
to track the shipping location and temperature information.
In addition you can download '' TemplogGO' application and can be done quickly and easily
with temperature location tracking.
When the specified alarm values are exceeded, the user is notified by SMS and push
notification via Mobile Application.
All features of the device that have not been started can be changed by the user. (alarm values,
recording time, transmission time, etc.)
"Arrive Destination" feature, you will be notified immediately via the mobile application when
you reach the destination you specified before shipment.
You can send the entire shipment report to your email address that you have defined to the
device automatically.
• QuadBand GSM 850 / 900 / 1800 / 1900
• Measurement Range: -25 +65°C • Accuracy: 0.5°C •Resolution: 0.1 °C
• Fixed or adjustable logging and sending time • CE Certificate
• Led notification lights • Rechargeable battery
• Mobile tracking app.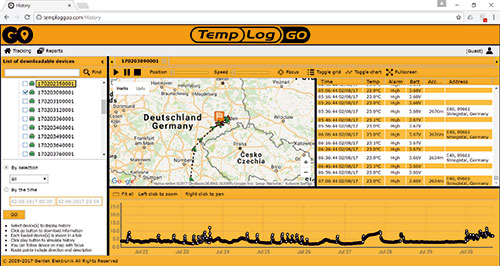 You can instantly access location and temperature information by querying the unique serial number of each device via the mobile application or website.
At the same time, you can review past records and see historical records on the map.
You can report as PDF and share these reports.

You can create a user for multiple device tracking and instantly watch all your registered devices at the same time.
You can remotely define device settings and instant notification settings to the device.